---
By L. C. Nojechowicz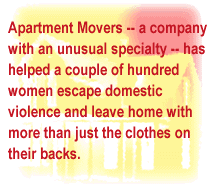 The woman who recently called Marcy Metzger at the Rape-Spouse Abuse Crisis Center in Lincoln, Neb., was afraid her husband was going to kill her. He routinely threatens to repeat the beating that sent her to the hospital one month after they married, adding "This time you won't just go to the hospital, I'll kill you."
That threat keeps the woman a prisoner in her home. And if she ever does leave, it would have to be quickly. Her only hope to get out with some of her possessions might be to call John Andrews, owner of Apartment Movers -- a company with an unusual specialty.
Over the past five years Andrews' firm has helped a couple of hundred women escape domestic violence and leave home with more than just the clothes on their backs.
"We call John when we get a call from someone who needs to get out immediately," explains a woman on Metzger's staff who goes by the name "Stork."
"Any time of day or night, he's right there, even if the person has no way to pay. And it can get scary because the perpetrator can come home at any time."
Andrews remembers one move that got especially tense.
"We knew the husband carried guns," Andrews recalls, "and might be back soon. We were trying to hurry, but the rain delayed us. Finally, we wound up telling her son, 'Look, if you see your dad returning, you need to go next door and call the sheriff.'" Luckily his father didn't return, and the woman got out safely.
Last year, Andrews' work to help domestic violence victims earned him an award for voluntary service from President Clinton and the Points of Light Foundation.
But Andrews is not alone. Metzger says an increasing number of men are joining the battle that for so long many viewed as women's work.
Through the center's resource bank, male locksmiths, carpenters, lawyers and mechanics offer women free help. Male volunteers on its board help to manage the agency. Others are trained to help women -- and sometimes their children -- deal with abuse directly. They volunteer on the rape crisis hotline, do face-to-face counseling with victims of domestic violence and sexual assault, or work with children scarred by violence.
Who are these men? Some have a professional interest in crisis intervention and counseling. But most are there because someone they care about -- a friend, a sister, maybe a daughter -- has gotten caught up in a violent relationship.
Then there are those, like John Andrews, who are simply working through memories. He grew up with abuse as the son of a now-recovering alcoholic.
"My father used to beat on me when I was a child," he recalls, "and I know what it's like to love somebody, be hurt by them, and yet you continue to love them."
For years, most domestic violence organizations assumed that women traumatized by violent men would be unable to accept help from men. Until recently, many had clear policies against involving men in counseling. That's what Mitzi Vorachek was accustomed to when she joined the Houston Area Women's Center.
"When I first came down from Philadelphia, I was pretty shocked," she recalls. "My first reaction was 'What are all those men doing answering calls on the hotline?' I just wasn't used to the idea that men could or should do this kind of work."
But the center's clients didn't react that way.
"A woman has never not wanted to talk to Rick," says Vorachek, referring to one experienced hotline volunteer who at times was doing three shifts a week. Apart from its many volunteers, the center has also long included men among its paid staff. Agencies large enough to provide the necessary training are increasingly moving in the same direction, she notes.
"We've finally realized 'Hey, this is crazy! We can't do it alone,'" she explains. "Men have got to be part of the solution."
1997 American News Service

See Also These Other Domestic Violence Cover Stories:
[ Return to Domestic Violence Cover Story

[ Return to News Archives || Return to News ]


Copyright &copy 1998 Kaleidoscope Ministries Ltd. All rights reserved.