Community Cousins Builds
New Ethnic Relationships
---
By Paul Bush
American News Service

When Diane Bock saw the violent images of the 1992 Los Angeles riots on TV, she was stunned."They were killing each other, and it was just based on the color of their skin," she said.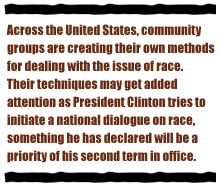 She remembers thinking someone should do something. For nearly two years from her home in suburban San Diego she tried to get state agencies and private organizations to listen to her simple idea: Why not bring families of different racial backgrounds together regularly as friends?
But the idea met with silence and Bock, who had no experience with public speaking or organizing, realized it was up to her.
After months of putting notices in churches and doctor's offices, in May 1995 Bock launched Community Cousins.
At that first meeting, 39 families of different races agreed to pair up and form lasting connections. Since then, Community Cousins has grown to 168 black, white, Asian and Hispanic families. It has also begun to spread from Bock's San Diego suburb to other states.
Across the United States, community groups are creating their own methods for dealing with the issue of race. Their techniques may get added attention as President Clinton tries to initiate a national dialogue on race, something he has declared will be a priority of his second term in office.
In Community Cousins, families agree to get together each month. "We don't necessarily sit around and talk about race issues," said Bock, a former publishing executive. "We just become genuinely acquainted and come to care about each other. Racism is different when it affects someone you care about. What I'm trying to do is stir the pot enough so that everyone has a friend that's different."
The technique works, says Kurt Spiller, an African-American stay-at-home father, who has been a member with his wife Katy for two years. They have been paired with Mike and Sandy Ackerman.
"We've helped each through crises like a parent dying and celebrated good times like the birth of a child," Spiller said of the two families' experience.
Sandy Ackerman said that prior to Community Cousins, she and her husband found it difficult to meet people of other races. "How do you meet minority people? You can't walk up to them in the parking lot and say, `Will you be my friend?'" she said.
Besides family get-togethers, the entire group meets for dinners, game nights and days at the beach. "We all have the same goal. We want our children to be raised free of stereotypes," Ackerman said.
While Bock was a pioneer in her own community, other efforts have been quietly under way for over a decade. The Center for Healing Racism in Houston in 1989 created a project called "Dialogue: Racism" consisting of 10 to 14 people who agree to meet weekly for ten weeks. Two facilitators of different races lead discussions on race-related issues.
"Our vision is to build community, not just have people talk about racism," said Cherry Steinwender, the center's director. More than 10,000 people have taken part in the dialogues since they were started, she said. The center has also been teaching organizations in New Orleans, Detroit, Las Vegas, Nashville, Tenn., and elsewhere how to sponsor their own dialogues.
In Houston, 20 graduates of the dialogue series have formed a group they call Dialogue II. It meets every two weeks for potluck dinner in members' homes.
Members frequently talk about racial incidents, said Donald Green, a psychology instructor at Houston Community College. Green is involved in a mixed-race relationship and says that he and his girlfriend often are the target of offensive comments. "On some occasions there are particularly offensive things like gestures," he said.
Talking about such incidents with friends of other races helps, said Green. "It doesn't erase the incident, in no way," he said. "It helps defuse some of the hurt, much like in a family when you talk about a problem."
But not everyone believes that dialogue is the best way to deal with race. Sara Jane Knoy, executive director of the Organization of the North East in Chicago, contends that action around a common cause is much more effective. Her group is made up of more than 56 churches, businesses, schools and other institutions in the Uptown and Edgewater districts of Chicago.
"I wouldn't put down those who use dialogue, but dialogue alone isn't enough to build lasting relationships," Knoy said. Breaking down barriers requires "working together on common concerns, such as better schools for the children, improved safety for the community and jobs."
However, a number of groups across the country maintain that talking is critical to reconciliation between the races. The talking often follows certain guidelines.
Rob Corcoran, national coordinator of Hope in the Cities, said, "This is not a deal where people are going to beat up on each other. Our business is encouraging the best in people, not confirming the worst."
Hope in the Cities, based in Richmond, Va., trains organizations in a six-week process similar to that used by the Center for Healing Racism. The method is now being used in Hartford, Conn., Portland, Ore., Natchez, Miss., and at least nine other cities, said Corcoran.
The discussion model encourages participants to acknowledge the history of racism that has existed. "Where people have been able to do this, healing has begun," Corcoran said. "I don't know why this is, but experience has shown that it is the case."
Doug Shipman, a banker, is currently facilitating small meetings at a black Baptist church and a predominantly white Episcopal church. Personal conversations allow participants to see things from each other's viewpoint.
"It's been enjoyable watching the changes," Shipman said. "This has been a real hope-reviver for me."
Hope in the Cities' model of transforming attitudes doesn't appeal to everyone, particularly those who use a more confrontational approach, concedes the Rev. Dr. Paige Chargois, one of the group's organizers.
"There are some leaders we've encountered who won't take part in our work, because they don't think we're taking the right approach. They feel we're taking the soft way or the longer way," she said.
Last year Hope in the Cities launched "A Call to Community," a national effort to spread its dialogue model.
Regardless of the techniques they used, community groups welcomed President Clinton's support for a national dialogue about race.
"If he follows through with some direct kinds of support, I'd feel extremely enthusiastic," said Donald Green, from Houston's Center for Healing Racism. "I think we need some national leadership in this area."
Kurt Spiller, of Community Cousins, stated his support as a question. "How can you oppose something like that? How can you say, `No, I don't think we should get together across racial bounds'?" he asked.
Posted July 7, 1997
Copyright &copy1997 American News Service
[ Return to the Getting Along Cover Story ]

[News Archives | Home &amp News ]

Copyright &copy 1998 Villagelife.org Inc. All rights reserved.