'Just Say No' is Rule in Parochial Schools">

---
Village Life News: November 21, 1996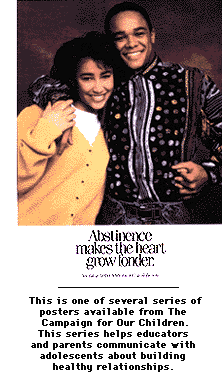 Teaching teens to say "no" when it comes to premarital sex is part of the curriculum for many parochial schools in Florida.
"The bottom line is abstinence," said Sister Regis Krusniewski, the director of the human sexuality program for Catholic schools in the Venice (Florida) diocese. "We back that up with the moral teachings of the Church."
The Catholic education system in Florida applies its standards in its human sexuality courses for every Catholic school in the state.
"In the lower grades, we teach children about self-respect, self-worth, self-image, and to see their bodies as the temple of God," Krusniewski said. "We don't teach the young children about sex, but we teach them about the love of God and respect for the person. In the middle grades, we teach them the difference between boys and girls, and we hope this gives them the knowledge, ability and the courage to do the right thing."
Krusniewski stressed that the Catholic church never condones sex before marriage. "We never say, 'If you do (have intercourse), use condoms.'" Students do talk about it (the use of preventative devices) but that's not the way we present it," Krusniewski said.
The Catholic diocese of Venice provides a curriculum for human sexuality for the 12 Catholic schools within its diocese, said Cardinal Mooney High School Principal Robert Siccone. The high school in Sarasota is one of 12 Catholic schools in the 10-county region of that Florida diocese.
"We don't teach sex education," Siccone said. "We teach human sexuality. It deals with the whole person. By virtue of being human beings, all of us are sexual beings. We teach sexuality from a spiritual and moral perspective in our religion classes, as well as from a biological perspective in our science and health classes."
All Catholic schools in Florida, he added, are mandated by the bishops of Florida to teach human sexuality on a grade-appropriate basis.
The Bible has an even more prominent role in sex education classes at Heritage Christian Academy in southwest Florida.
"We teach from the Biblical perspective. We teach our teenagers about the misuse and abuse of sex," said Dr. Wallis Metts.
Youth in sixth though twelfth grades are separated into same gender groups every year to learn about the dangers of pregnancy, sexually transmitted diseases and the benefits of abstinence.
Metts said the school bases its curriculum on I Cor:7. He said he believes the Bible is clear that neither the husband nor wife has exclusive right to their bodies. Each spouse must consider the vow they take, Metts said, in which they promise each other to be as one body.
See Sidebar to this Story:
Fla. Public School Program Reduces Pregnancies

Other Related Stories:
Churches Share Values in Sexuality Education
[ Return to the Archives ]
---
Copyright © 1997 Kaleidoscope Ministries Ltd. All Rights Reserved