---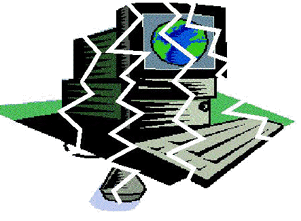 By Melissa Lauber
A Village Life Exclusive
Is technical sabotage of religious web sites the product of pranksters or an organized attempt to counter good with evil?
While some in the European religious community argue that Christian web site destruction often has an anti-Christian motivation, most observers in the United States reject such ideas of conspiracies.
"Churches are probably targeted less than other groups," says Richard Wilbert, the system administrator and webmaster for the expansive Evangelical Lutheran Church in America web site.
Although he acknowledges that "there are religious fanatics out there," Wilbert says he believes the "hacker mentality" does not support a conspiracy theory.
The United Methodist Church's General Board of Global Ministries is the latest -- and may be the largest -- Christian web site to be damaged by a computer hacker.
The intrusion to the New York City-based site occurred Nov. 16 and although it was quickly detected, some of the site was still down three weeks later. In addition to providing an extensive mission information site for the global denomination, the General Board's web server also hosts more than 80 regional conferences and local churches.
In disrupting the mission site, the intruder posted "a personal message not related to the General Board of Global Ministries" on the opening page, according to a statement posted on the UMC denominational web site maintained in Nashville.
The 'personal message' posted by the intruder included obscenities. "Thank you for your patience and understanding as we respond to one of the occasional hazards of the electronic age," the UMC page notice concludes.
There are no statistics available for the number of religious web sites that have been disrupted by intruders, however, most Christian web experts in the U.S. say they believe the total number is quite low as compared to break-ins and attempted disruption of other types of sites.
In May 1996 the U.S. Defense Department reported that as many as 250,000 hacker intrusion attempts had occurred during the past year. Of those attempts, approximately 65% were successful. The report, prepared for Congress, said the number of attacks is doubling each year.
Frank Bruggermann of Christlicher Internet Dienst (CID) attributes some of the attacks on Christian sites to "dark forces." He told colleagues at the first European Christian Internet Conference held in Frankfurt last month, that attacks on Christian sites is a growing problem. CID monitors the work of Satanist groups on the Internet.
The presence of Christian sites on the Internet must be a goal in itself, said Richard Steel, of the Blackburn Diocese of the Church of England. "Good Christian sites, offering wholesome material, are a light in the darkness," he added.
"Technical sabotage" was a major concern of delegates who attended the conference from nine different countries. Last year, a single act of computer sabotage destroyed several large European-based Christian sites.
Wilbert said the ELCA site has experienced few problems. One time, the site was flooded with accesses, and the high number of requests in a 10 to 20-minute time frame caused the system to lock up. However, Wilbert was able to address the problem immediately through a filtering process.
He says he believes hackers don't often bother religious sites because "people are worried about messing with God. But hackers also have bigger fish to fry. They would probably go after the federal government, or IBM, or some other (large site). That would give them something to brag about. Breaking into a church site is not the same thing."
Lesley Carosson, the Director of Public Relations for the UMC mission's board agrees. "This wasn't an antireligious conspiracy. It was someone's idea of fun, putting obscenities on a religious site. It was a crime of opportunity, a prank.
"The Internet is simply not secure. If these hackers can bust through into CIA files and move money around in bank files, they will be able to break into a church site. It's their way of saying, 'aren't we smart.' They do it because they can."
Carosson is right, said Bob Dasal, managing editor of Christian Computing Magazine.
"I don't pretend to understand why people get a kick out of doing such things. It's hard to believe someone would work that hard to break in.
"Perhaps one-tenth of one percent of church sites have been attacked in this manner. But just one time seems like one time too many."
"Christians have to realize that the Internet is a mixed bag. There is bad stuff out there (on the World Wide Web). But the technology is neither good nor bad. We can't abandon the potential to the bad."
"People ask me: 'if Jesus were alive today would he be using the net?'" said Pekka Harne of Finland. Harne answers with the hopes of all those Christian engaged in electronic ministry. "I just tell them," he said, "Jesus is alive and He is using the net."
Is your site safe? Find out in this related article:

Security Must Be Considered




[ Return to the News ] [ Return to the Archives ]

Copyright &copy 1998 Villagelife.org Inc. All Rights Reserved