'Holy Boldness' Movement
Sparks New Hope in D.C.
---
By William L. MacDougall
A UMNS Feature

In a plain, square room in the suburbs of Washington about 40 adults and children lift their voices in a hymn led by the Rev. Alfonso Harrod, who is playing a portable electronic keyboard. At the front of the room, crowded with folding metal chairs, is a portable pulpit and a table containing a small cross.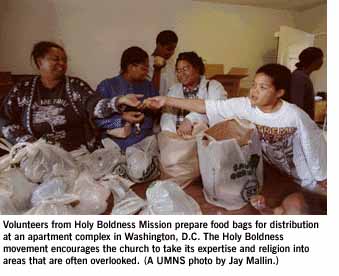 At first glance, this place of worship in the community room of a large apartment complex about 10 miles from the Capitol might seem unimpressive. But it isn't. This is Holy Boldness Mission, a United Methodist Church, living proof of a phenomenon sweeping Methodism in the Washington and Baltimore areas.
It is called "Holy Boldness," a movement of lay people and clergy taking their expertise and religion into overlooked areas to bring new hope to residents with limited resources.
"Holy Boldness is a life style," explained Bishop Felton E. May of the Baltimore-Washington (regional) Conference. "It's an attitude by which you live your vocation based on a commitment through faith and prayer and a disciplined study of the scriptures."
May said many church-goers believe their commitment to Christianity ends at the collection plate. "We have mesmerized the laity into thinking that giving is all they have to do. But that is only the first step. You need 100 percent involvement in the affairs of society."
He noted that the concept of Holy Boldness long has been part of Methodism. "John and Charles Wesley had Holy Boldness," said May. "They decided to step outside the structure and address the problems of their country, of their day."
The movement is being promoted churchwide under a program coordinated by the United Methodist Board of Global Ministries and the National Urban Strategy Council of the United Methodist Church.
The concept sprang to life in the Washington area last fall after a series of meetings to welcome Bishop May to the conference. The area is home to a large number of United Methodists -- 150,000 in the Baltimore and Washington areas of Maryland and the District of Columbia.
Some in the region are among the nation's wealthiest and most powerful, but others live in pockets of poverty containing serious crime, a massive drug problem and troubled schools.
May was anxious to do something about the problems as soon as possible. He saw an opening during the welcoming ceremonies.
"After one meeting with 1,400 people," he recalled, "I was absolutely drained. I said to the people attending, 'It is time to go to work. If you want to do something more than just traditional programs, let's get together again and decide what we can do for our community.'"
May noted with pride that 170 people showed up for the first meeting at Asbury United Methodist Church in Washington even though "it was not a command performance for the bishop. We had dialogues and began to work out a plan of action."
Important contributions came from many sources, including faculty members of Washington's Wesley Theological Seminary. As the "Asbury meetings" continued, May challenged the lay people and clergy attending. He asked the group: "What would Washington look like if the churches acted with Holy Boldness?"
Those attending answered that the results would be that doors of the churches would be open seven days a week, children would be educated properly, people would have meaningful jobs with adequate wages, and the area would grow with spiritual renewal.
One of the first concrete results of the meetings was the formation of "guilds" -- associations of professionals in their own fields willing to devote free time to churches and neighborhoods in need.
A guild composed of lawyers and another of teachers were the first to organize. Others, such as health care workers, are forming.
Marc Loud, a Washington attorney, heads the lawyers' guild, which held its first meeting last November.
"About 25 attorneys showed up," he said. "We established right off that our basic thrust is that law is our second calling. Our first calling is to bring our skills to people who need our service and have nowhere else to go."
Early, it became apparent that there was an urgent need for action by the Holy Boldness groups. Jack Johnson, a Maryland state's attorney, told Bishop May about a neighborhood in Landover, Md., that had many problems.
Johnson and May toured the Washington Heights and Nalley Road apartment complexes, which are composed mainly of large, old apartment buildings. Many amenities, including churches, are not readily available and there is considerable crime in the area.
Residents include many single mothers with large families and low incomes. They complained to the visitors that the area does not have adequate police protection, public transportation or strong voices to bring their concerns to proper authorities.
So the bishop and other United Methodists, including Alfonso Harrod, pastor of Grace United Methodist Church, Fairmount Heights, Md., decided to act.
Bishop May and the State's Attorney Johnson formed a joint task force combining resources to fight crime and improve life as much as possible in the area. Plans to implement the work are now under way.
Harrod and his parishioners set up Sunday services in the Nalley Road community room. One of their first endeavors was to organize a Thanksgiving service.
"We gave out 1,000 turkeys to residents there for Thanksgiving," Harrod says. "At Christmas, we gave away toys and food. We also organized distributions of clothing and transportation to get the items to people who needed them but had no way of getting to us."
Attendance ranges from about 20 to 40, usually including at least a dozen children. There is no Sunday school yet, but one is planned. That need was underscored recently by three girls about 8 years old who showed up one Sunday, saying they were grateful for the chance -- which they had not had before -- to attend church. They returned at the next service with three other young friends.
"It is so easy for young people to go astray," said Harrod. "That's why it is so gratifying to have children in attendance. If we can save the children, that is the real mission accomplished."
The lawyers' guild also is pitching in with the efforts on Nalley Road. A program is being set up for area young people to participate in mock legal proceedings sponsored by the guild. Some will play the part of judges, lawyers and others involved in various activities such as trials.
The hope is that some of the young people will understand better how the law works and how it can be used for their benefit. Loud also hopes that some of the participants may show enough proficiency to win jobs in law offices and possibly become lawyers some day.
The guild also plans to work with Nalley Road residents to help them understand better how to use existing means -- such as access to local officials -- to express their demands for an improved community.
Some improvements already are apparent. When a member of one guild heard that residents complained of badly lighted public areas, he approached a power company executive who attends his church and asked if better lighting could be installed. It was, in short order.
Trudy Holland, a widowed mother of four who helped form Holy Boldness Mission Church, said the services are making a big difference. She and her family walk to services, whereas before she was unable to attend any church because of the lack of public transportation.
"It's a better community now," she said, "especially for the children. They're getting a lot out of it."
Future plans for the mission include Bible study, prayer groups and sightseeing tours to places of historic, political and religious interest. Eventually, many would like to see the construction of a complete church somewhere in the area.
The work is attracting attention around the region and in other parts of the nation. Holy Boldness activities also have begun in Baltimore, and May said that churches elsewhere in the Maryland and West Virginia part of the conference want to start such work, too.
Some officials of the Federal Government also are interested. Secretary of Education Richard W. Riley has appointed an administrator to work with the educators' guild in establishing education programs for young people.
All such activities are being coordinated by a team composed of Dr. Marcus Matthews, conference council director; Sandra Ferguson, associate conference council director; and the Rev. Wesley Williams, executive director of the Multiethnic Center of the Northeastern Jurisdiction of the United Methodist Church. He is a consultant on Holy Boldness to the Baltimore-Washington Conference.
Harrod, the Holy Boldness Mission pastor, said the movement owes its success so far to the dedication of a growing group of committed Christians.
"We Methodists have so much talent," he said. "It is wonderful to see how all this is being organized. People like these teachers and lawyers -- look at the power available to God's people."
Harrod observed that he has "been involved in many exciting activities in my church career. But nothing compares to what is going on with Holy Boldness. It is amazing to see how fast it is growing and how it is changing people's life styles so drastically -- all for the better."
May said he is astounded at how fast the movement took off and what it has already accomplished.
"This is just the beginning," he noted. "Our goal is to create a cadre of United Methodists who will commit themselves to the alleviation of human suffering and greed in the name of Jesus Christ.
"We can see this happening now, and I believe in five years this vision really will begin to emerge and we will see the creation of a new and better community."
[ Return to Christian News Archives | Return to Village Life Magazine ]

Copyright © 1999 Villagelife.org Inc. All Rights Reserved