---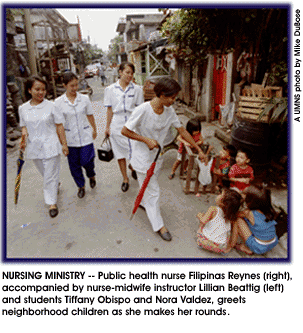 By Mike DuBose
United Methodist News Service
MANILA, Philippines -- Public health nurse Filipinas Reynes, dressed in a spotless white uniform and clutching an umbrella, makes her way through the littered streets of one the city's poorest neighborhoods.
Children run to meet her, shouting "Big sister!, Big sister!" Reynes greets each child by name, recalling them from the health and nutrition classes she teaches at nearby Mary Johnston Hospital, the only United Methodist hospital in the Philippines.
She is making her regular rounds in the Tondo neighborhood, checking in on new mothers, mothers-to-be and recently released hospital patients. She knocks on the door of a tin-roofed shack. "The public health nurse is here," she calls.
An elderly couple lets Reynes and her entourage of midwifery students and their instructor into their tiny kitchen, which provides the only access to the 15-year-old prenatal patient from another family living on the second floor.
The group climbs a steep wooden ladder to the patient whose exam is performed on the floor.
Exiting back into the kitchen, Reynes finds a group of neighborhood women has gathered, hoping to have their blood pressure checked. She sets up an impromptu clinic in the doorway and puts the students to work examining the women.
"It's very fulfilling working in the community. They know me," Reynes said. "My father was a Methodist minister, so I'm very much oriented to this work -- mission work."
A sense of mission is central to the work of Mary Johnston Hospital, according to Myrna Velasquez, medical director. "We're in the poorest area in the metropolis. Our target clientele here is the street children that live around the hospital. We give them a Sunday school class in the hospital and education to improve their health habits," Velasquez said. "You'd be surprised that these children really improve a lot, not only physically, but spiritually, as well."
The 150-bed facility is accredited in surgery, internal medicine, pediatrics and obstetrics/gynecology, she said.
Money to update the non-profit hospital's antiquated equipment has to come mostly from outside donors because many of the patients cannot afford to pay, Velasquez said.
"Because our mission is serving the depressed people of the city, we are not competitive [with for-profit hospitals]," Velasquez said. But, she added, "Money is not everything. It is service to the less fortunate ones."
As for Reynes, she goes into her second year at Mary Johnston Hospital knowing the need for her ministry is growing. "We have so many patients who are suffering in their homes," she said.
[ Return to Christian News Archives | Return to Village Life Magazine ]


Copyright © 1999 Villagelife.org Inc. All Rights Reserved